NO-Xplode XE Edge by BSN
Pre-Workout Powder With Caffeine For Increased Energy*
Formula Includes 1.6G Of Beta-Alanine And 1G Citrulline Per Serving
Description
BSN NO-Xplode XE Edge Cambodia
XTREME

 ENERGY & FOCUS

GUAYUSA

From the Amazon Rainforest and used by the Kichwa Tribe during nighttime hunting

YOHIMBE

From the West African evergreen and used by warriors dating back to ancient Egyptian times

MACUNA

A tropical legume used in Ayurvedic medicine since 1500 BC
INTENSE ENERGY, UPFRONT FEEL & TUNNEL VISION FOCUS IN JUST ONE SCOOP.
SUPER LEAF EXTRACTS
CAFFEINE PER SERVING
BETA-ALANINE PER SERVING
YOUR PRE-WORKOUT EDGE HAS ARRIVED.
N.O.-XPLODE XE™ EDGE is the result of a global search for a unique blend of botanical ingredients that will help deliver an intense pre-workout formula to have you crushing it in the weight room. Ingredients such as Guayusa, an Amazonian super leaf, Yohimbe, from the West African evergreen, and Macuna, a Tropical legume have been combined with 325mg of Caffeine, 1.6g of Beta-Alanine, and a 1g Citrulline blend to support extreme energy, feel, and focus in 1 scoop. Get your performance EDGE with N.O.-XPLODE XE EDGE.
Team BSN
Flex Lewis
4x Olympis 212 Champ
DESTROY YOUR WORKOUT
WITH THESE 5 FLAVORS
Available in five flavors, N.O.-XPLODE XE EDGE offers the latest & greatest ingredients for serious athletes seeking a performance edge.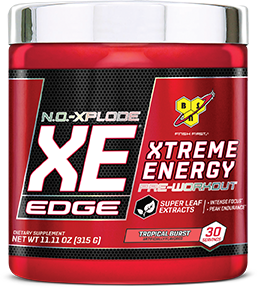 WHAT TO USE & WHEN

N.O.-XPLODE XE EDGE

N.O.-XPLODE

HYPER FX
Extreme Energy, Focus, Pump and Endurance Support
All-in-One Muscle Building Pre-Workout Powder
Amplified Energy, Focus and Endurance Support
For athletes seeking an intense pre-workout formula to get them through their hardest workouts
For athletes seeking energy, focus and endurance plus muscle-building support
For athletes seeking concentrated energy and focus
• 325mg Caffeine
• 1.6g Beta-Alanine
• 1.58g Pump Blend
• 275mg Caffeine
• 1.8g Beta-Alanine
• 1g Pump Blend
• 3g Creatine
• 200mg Caffeine
• 0.8g Beta-Alanine
• Guayusa Leaf Extact
• Yohimbe
• Macuna Pruriens
• TeaCrine
• Huperzine
• DMAE Bitartrate
• DMAE Bitartrate
• Beta-Power Betaine
• Anhydrous
• PEAK ATP
Directions For N.O.-Xplode XE Edge: Mix 1 scoop with 4-6 fl oz of cold water and consume immediately. Stir. Do not shake. For best results consume 10-20 minutes before training.
Warnings: Consult your physician before using this product if you are taking any medications or are under a healthcare professionals care for a medical condition, including, but not limited to, psychiatric disorders. Not for use by those under the age of 18, women who are pregnant, trying to get pregnant, or nursing, or those who are sensitive to beta-alanine, caffeine or niacin. Do not consume caffeine from other sources while taking this product as too much caffeine may cause nervousness, irritability, sleeplessness, and occasionally rapid heartbeat. Beta-alanine and niacin may cause a harmless, temporary tingling or flushing sensation. Use only as directed. Do not exceed recommended daily intake. Do not combine with alcohol. Do not exceed 2 scoops within any 24 hour period, consumed at least 4 hours apart. Consume as part of a healthy diet and exercise program, and drink at least 100 fl oz of water per day. Exercise may increase your need for additional fluid intake. Keep out of reach of children. Store in a cool, dry place away from direct sunlight.
* These statements have not been evaluated by the Food and Drug Administration. This product is not intended to diagnose, treat, cure, or prevent any disease.
Nutrition Facts : 
Serving Size 1 Scoop (10 g)

Servings Per Container 30

Amount Per Serving

% Daily Value

Calories

15

      

Total Carbohydrate

4 g

1%‡

Vitamin D (as Cholecalciferol)

500 IU

125%

Thiamin (as Thiamin HCI)

2 mg

133%

Niacin (as Nicotinic Acid)

30 mg

150%

Vitamin B6 (as Pyridoxine HCI)

2 mg

100%

Folic Acid

200 mcg

50%

Vitamin B12 (as Cyanocobalamin)

9 mcg

150%

Pantothenic Acid (as D-Calcium Pantothenate)

10 mg

100%

Calcium

80 mg

8%

Magnesium

25 mg

6%

Sodium

140 mg

6%

Potassium

180 mg

5%

Endura Fusion*

Efforsorb™ Blend

2.2

g

**

(Malic Acid, Citric Acid, Sodium Bicarbonate, Potassium Bicarbonate)

Beta-Alanine (CarnoSyn®)

1.6

g

**

N-Acetyl-L-Cysteine

300

mg

**

Rhodiola rosea L. Extract (root)(standardized for 3% Rosavins and 1% Salidroside)

100

mg

**

AstraGIN® Proprietary Blend

25

mg

**

[Astragalus membranaceus Extract (root), Panax notoginseng Extract (root)]

N'Tensity Matrix*

L-Tyrosine

500

mg

**

Choline Bitartrate

500

mg

**

Acetyl-L-Carnitine HCI

375

mg

**

Mucuna pruriens Extract (seed)(standardized for 20% L-Dopa)

250

mg

**

Toothed Clubmoss Extract (aerial parts)(standardized for 1% Huperzine A)

10

mg

**

N.O. PUMP Complex*

Citrulline Blend

1

g

**

(L-Citrulline, L-Citrulline Malate)

Magnesium Glycerophosphate

250

mg

**

GlycerOsorb

250

mg

**

(Calcium Glycerophosphate, Glycerol Monostearate)

Grape Skin Extract (standardized for 50% Polyphenols)

75

mg

**

Folic Acid

200

mcg

**

Super Leaf Energy Composite*

Caffeine Anhydrous

325

mg

**

Guayusa (Ilex guayusa)(leaf)

100

mg

**

NRG-X Stack

35

mg

**

(Theacrine [as TeaCrine®], Yohimbe Extract [bark][standardized for 8% Yohimbine])

Grapefruit Bioflavonoid Complex

25

mg

**

‡ Percent Daily Values are based on a 2,000 calorie diet. **Daily Value Not Established.

OTHER INGREDIENTS:

Natural And Artificial Flavor

, Calcium Silicate

, Silicon Dioxide

, Sucralose

, Gum Blend (Cellulose Gum

, Xanthan Gum

, Carrageenan)

, Blue 2.
Additional information
| | |
| --- | --- |
| Size | 30 Servings |
| Flavors | Cherry Lime 30 Servings, Blue Raspberry 30 Servings, Tropical Burst 30 Servings, Green Apple 30 Servings |
Only logged in customers who have purchased this product may leave a review.