Description
[fusion_builder_container hundred_percent="no" equal_height_columns="no" menu_anchor="" hide_on_mobile="small-visibility,medium-visibility,large-visibility" class="" id="" background_color="" background_image="" background_position="center center" background_repeat="no-repeat" fade="no" background_parallax="none" parallax_speed="0.3″ video_mp4="" video_webm="" video_ogv="" video_url="" video_aspect_ratio="16:9″ video_loop="yes" video_mute="yes" overlay_color="" video_preview_image="" border_size="" border_color="" border_style="solid" padding_top="" padding_bottom="" padding_left="" padding_right=""][fusion_builder_row][fusion_builder_column type="1_1″ layout="1_1″ background_position="left top" background_color="" border_size="" border_color="" border_style="solid" border_position="all" spacing="yes" background_image="" background_repeat="no-repeat" padding_top="" padding_right="" padding_bottom="" padding_left="" margin_top="0px" margin_bottom="0px" class="" id="" animation_type="" animation_speed="0.3″ animation_direction="left" hide_on_mobile="small-visibility,medium-visibility,large-visibility" center_content="no" last="no" min_height="" hover_type="none" link=""][fusion_text]
Cellucor – C4 Gen4 Cambodia
[/fusion_text][fusion_youtube id="//www.youtube.com/watch?v=_lAP0mp24gE" width="" height="" autoplay="false" api_params="" hide_on_mobile="small-visibility,medium-visibility,large-visibility" class="" /][fusion_text]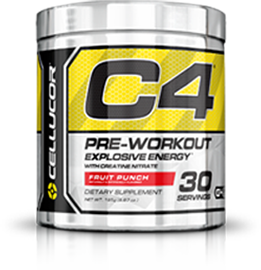 C4
EXPLOSIVE ENERGY FOR EXTRAORDINARY WORKOUTS*
Explosive Energy*

Unbelievable Muscle Pumps*

TeaCor™ hits like the first time every time*

Amazing Flavors*

THE POWER OF C4*
C4 is an explosive pre-workout supplement that helps you push through your toughest training sessions.* C4 is formulated with ingredients for energy, focus and pumps.*
NEXT LEVEL FORMULA*
Cellucor's Fourth Generation C4 is the next level of innovation and refinement. Its formula is now more dialed in, more potent, and features Creatine, to promote strength, muscular endurance, and lean muscle gains.*
EXPERIENCE EXPLOSIVE ENERGY*
The taste of C4 when you take a sip. The tingly sensation you feel as it travels through your body. The surge of motivation that hits you at the perfect moment—right before you're about to crush your workout…The only word to describe it is explosive. Everything you love about your favorite pre-workout lives on, and the next chapter of your most epic workouts has just begun.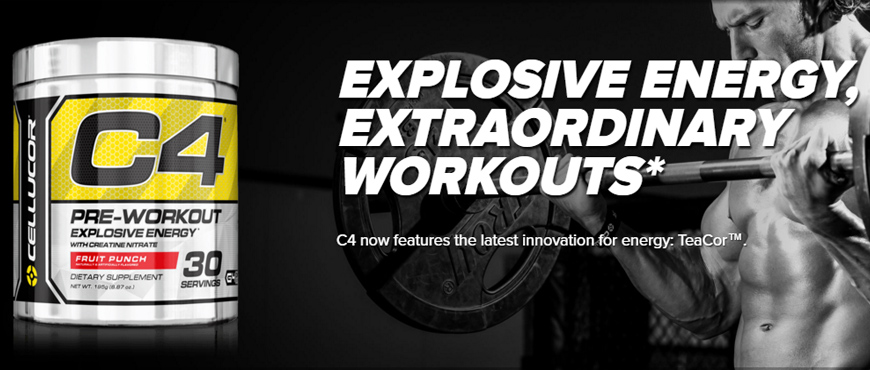 Directions For C4 – Gen 4: DO NOT EXCEED RECOMMENDED DAILY INTAKE. USE ONLY AS DIRECTED. Take one serving (1 scoop) of Cellucor C4 mixed with 4-6 fl. oz. of water 20-30 minutes before training. Once tolerance has been assessed and you are looking for an additional boost of energy, take one additional serving (1 scoop) with serving taken before training. DO NOT EXCEED 2 SCOOPS PER DAY. During your workout, it is recommended that your drink plenty of water or performance beverage. Some individuals may experience a harmless tingling sensation, which is attributed to beta alanine.
Warnings: Not intended for use by persons under age 18. Do not exceed recommended dose. Do not consume synephrine or caffeine from other sources, including but not limited to, coffee, tea, soda and other dietary supplements or medications containing phenylephrine or caffeine. Do not use for more than 8 weeks. Consult with your physician prior to use if you are pregnant or nursing, or if you are taking medications, including but not limited to MAOI inhibitors, antidepressants, asprin, nonsteroidal anti-inflammatory drugs or other stimulants. Consult your physician prior to use if you have a medical condition, including but not limited to, heart, liver, kidney or thyroid disease, psychiatric or epileptic disorders, difficulty urinating, diabetes, high blood pressure, cardiac arrhythmia, recurrent headaches, enlarged prostate or glaucoma. Discontinue use 2 weeks prior to surgery or if you experience rapid heartbeat, dizziness, severe headache or shortness of breath. Do not use if safety seal is broken or missing. NOTE: Please do not use in combination with other dietary supplements, pharmaceuticals, foods that are considered to be stimulants. Always check the warning label before using C4 Extreme with other products.
[/fusion_text][/fusion_builder_column][/fusion_builder_row][/fusion_builder_container]